Amazon.com Best Seller, Bill Ooms presents:
The Tech Multiplier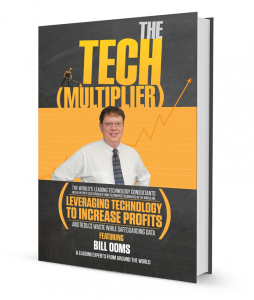 Bill Ooms, president and owner of Business System Solutions, has joined a select group of the America's leading experts to co-write the book titled, "The Tech Multiplier".
His book features proven secrets and strategies from some of the world's leading entrepreneurs.  Bill Ooms contributed a chapter titled "Customer Service Makes All the Difference."
The book was released on January 24, 2013 and achieved Amazon.com Best Seller status on the first day of release in the following categories:
Computer Networking
Computer Networks
Protocols &APIs
Information Systems
Software Engineering
Computer Science,
Computers and Technology
"I'm thrilled that we were able to reach best-seller status on the first day of sales," says Ooms. "For business owners looking to gain perspective and knowledge regarding business technology and data safety, 'The Tech Multiplier' is a great place to start.
It has become a necessity to keep our business functioning at an efficient level of productivity and you have a major requirement for computer expertise at hand. That's why the experts in this book  wish to share their knowledge and expertise they have used to analyze situations and advise their clients. In this book, we discuss how to:
Blend operators, equipment and systems
Manage disaster recover systems
Master the 'Cloud'
After such a successful release, Bill Ooms will be recognized by The National Academy of Best-Selling Authors®, an organization that honors authors from many of the leading independent best-sellers lists.
To learn more about this book or to purchase directly from Amazon, please follow the link below.