Electronic Waste Recycling Drive
West Lafayette, IN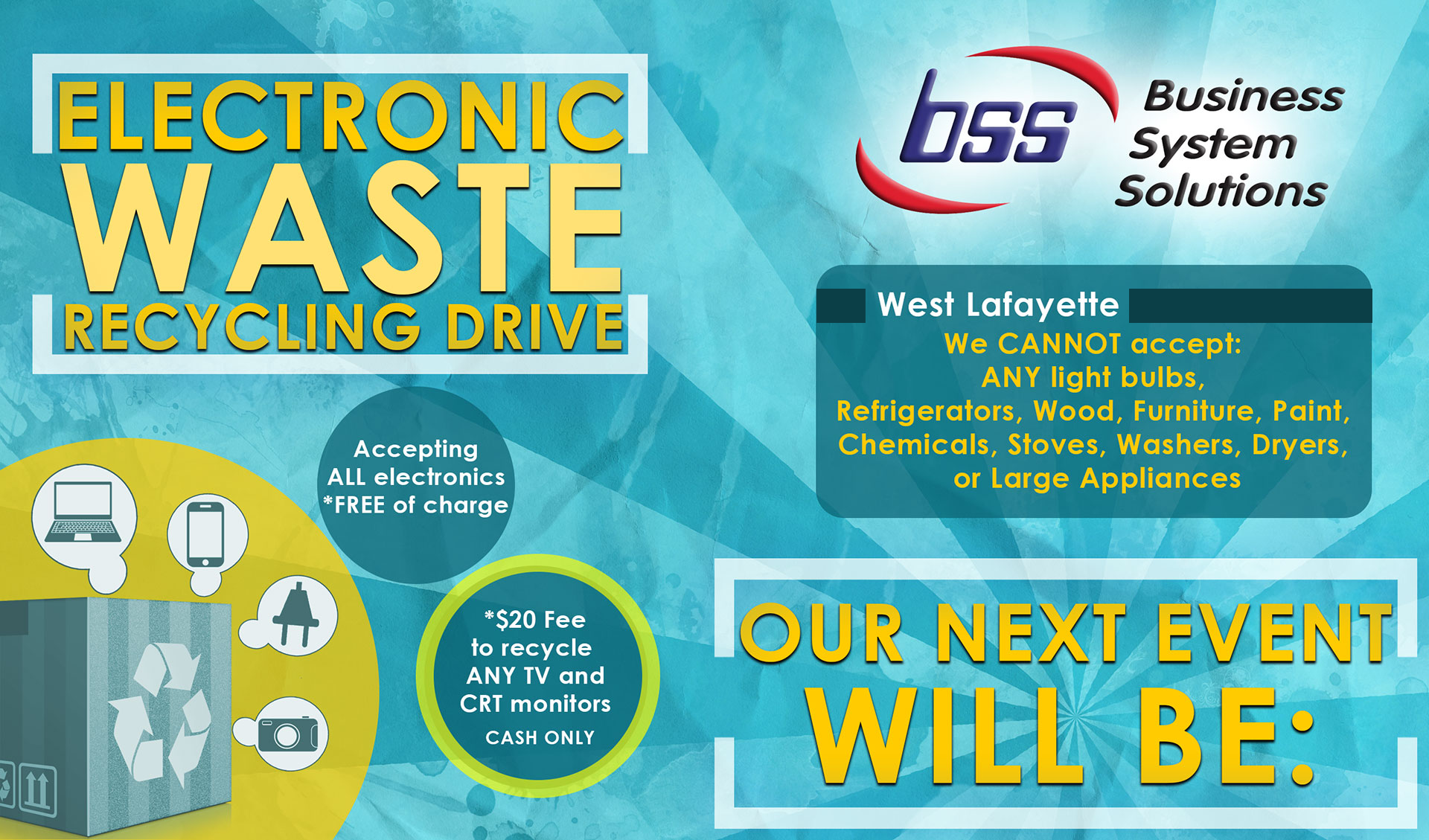 Held every 3rd Wed/Thur in April/October
Fall 2023: October 18-19, 8AM - 5PM

ALL TELEVISIONS and ALL CRT MONITORS (the big box style) have a $20 cash recycling charge. ALL COPIERS have a $30 cash recycling charge.
All other items are free of charge to recycle!
The United States produces 9.4 million tons of eWaste annually, more than any other country in the world. According to the EPA, only 12.5% of eWaste is recycled. Electronic waste is a growing problem that comes with toxic materials that are thought to be detrimental to human health upon exposure, which is why it is important that it doesn't end up in landfills and is properly recycled.
Indiana state law prohibits citizens from knowingly allowing their computers and other electronics to enter a landfill. And that includes leaving them for city trash pickup. That's why Business System Solutions is holding an eWaste Recycling Drive so you can safely dispose of your old electronics. All electronics collected during the drive will be picked up by Technology Recycles, who is R2/RIOS Certified and follows best practices for electronics recycling stewardship- so you know your electronics won't wind up contaminating some landfill.
Electronics Accepted For Recycling
Don't see your item on the list? Give us a call to see if we can accept it! (765) 742-3440
Batteries (any kind or size)
Cables
Calculators
Cameras & Camcorders
CD Players
Cell Phones
Circuit Boards
Computer CPUs
Computer Hard Drives
Computer Key Boards
Computer Memory
Computer Mice
Computer Monitors* (20 FEE for CRT Monitors)
Computer Terminals
Computer Towers
Consumer Electronics Equipment
Copy Machines ($30 FEE for any Copier)
Cords
DVD Players
Electrical tools
Fax Machines
Industrial Electronics
Integrated circuits
iPod, MP3 Players
Laptops
Lithium Ion, Ni Cad, NM-Hi, UPS Batteries
LCD Monitors
Medical Equipment (No Bio Hazards)
Microwaves
Monitoring Equipment
Network Equipment
Office Electronics
PDAs
Phones
Portable Players (DVD, CD, Tape, MP3)
Point Of Sale (POS) Displays
Printers
Radios
Satellite TV Equipment
Scanners
Servers
Small appliances - No CFC's
Telecom Equipment
Televisions* ($20 FEE for ANY TELEVISION)
Electronic Toys
Uninterruptible Power Supplies UPS
Vending Machines
Video Game Systems
Wiring
ITEMS THAT CANNOT BE ACCEPTED:


NO Large Home Appliances, Refrigerators, Dishwashers,  Washers and Dryers, Stoves, Light Bulbs, Paint or Chemicals, Wood or Furniture.
If you have any questions please feel free to call our office at (765) 742-3440.
Drop Off Locations:
(Please note, we can only accept recycling during our scheduled events)
Business System Solutions
1211 Cumberland Avenue
West Lafayette, IN 47906
(MAP IT)
Electronic Waste Recycling Drive
West Lafayette, IN