How secure is your network? How long can your business afford to be down?
As more business activities move online and as more consumers around the world connect to the Internet, and as autonomous devices are connected, the opportunities for cybercrime will grow. This means that companies that fail to adequately protect their networks will be at an increasing competitive disadvantage.
Even a good antivirus software is worthless if your windows and applications aren't kept up-to-date. BSS offers the following protections:
Enterprise BSS Datavault Backup and Disaster Recovery
Internet Protection With Secure DNS Filtering
Web Filtering Firewall
Complete Endpoint Protection
Remote Monitoring and Management of Servers and PCs
Patch Manage For Servers and PCs.
Achieve Peace-Of-Mind
Through A Tiered Approach To Security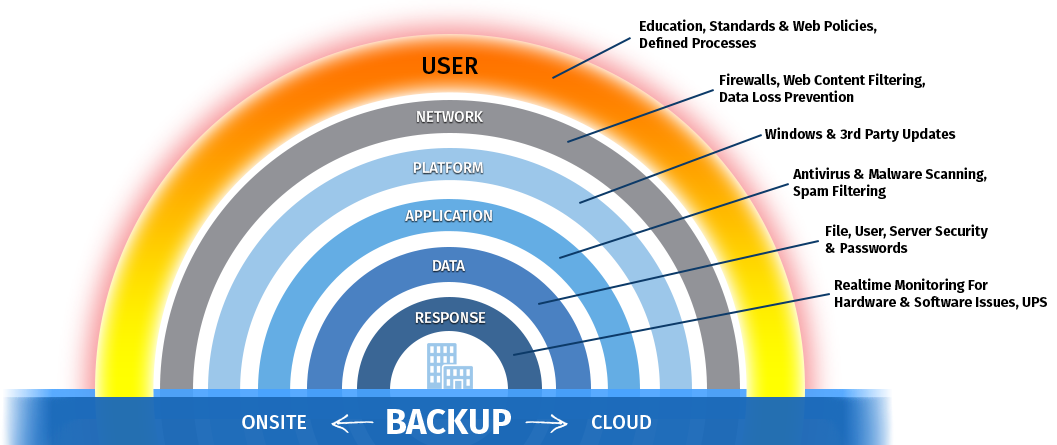 BSS Protection Business Security Essentials
BENEFITS
Peace of mind that all the basic protection tools are in place, up-to-date, and monitored
Patch management - updates to over 100 different applications provided for you automatically
Security Procedures and Best Practices that are constantly updated
Confidence that certified experts are continuously securing your network
Reports detailing the threats you have been protected from
FEATURES
Internet Filter preventing employees from accessing harmful content
Antivirus and Anti-malware that prevents, reduces and cleans up viruses
Email Spam Filtering and Virus screening
Threat Monitoring 24x7x365
By taking a tiered approach to security, you provide layers of best-practices that make your network far too inconvenient to pursue infiltrating. Layering properly configured hardware, proper patch management and updates alongside proper antivirus software, as well as dozens of other best-practices is the only way to minimize your risk of exposure.