The Bring Your Own Device or BYOD era has completely transformed the office environment. Employees and visitors are now able to roam around the office, work while eating lunch in the cafeteria, work in a meeting room and stay connected to the company's network.
Wireless technology totally changed the way we connect to a local network and the internet. Aside from the ability to move from one place to another, companies are starting to reap the operational benefits of having a stable wireless connection on-premise.
Business System Solutions is a wireless site survey company providing heat mapping services and wireless site surveys to businesses in the Frankfort, IN area. A wireless site survey can help your business identify and resolve any connectivity issues to create a reliable wireless network on your business premises.
How Wi-Fi can help your business?
Fewer cables mean less maintenance cost – Cables that run through a building are more costly the longer the distance they need to run. Having a wireless network will save you in hardware and in maintenance.
Easy to scale – Proper wireless network planning enables you to easily scale up or down when your business changes. You don't have to crawl on floors or climb the ceiling to increase or to decrease your network coverage.
Remote Management – We have partnered with industry-leading suppliers in the networking industry to deliver only the best solutions possible. Our wireless devices come with easy setup and configuration. You can manage a network remotely too.
Every business knows the importance of having a stable and fast wireless network connection, our heat mapping and wireless site survey services can help you identify any problem areas in your network.
Here's how a wireless site survey solves dead spots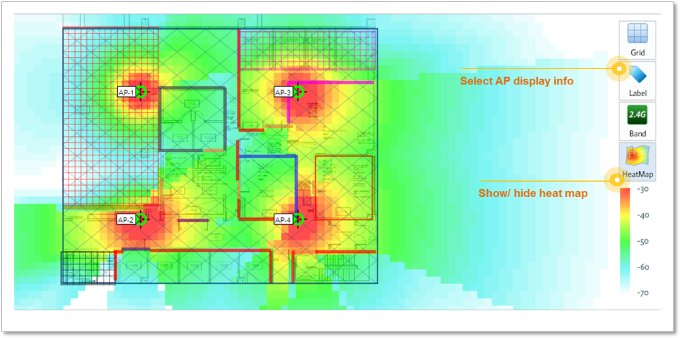 We employ unique equipment that will measure sources of existing interference that can cause hidden problems for wireless connectivity. Our wireless site survey takes into account both voice and data communications over the planned wireless connection.
Our RF virtualization map records information from key areas of a wireless network including signal strengths, access point locations, and noise levels. This report exposes locations that are possible weak spots.
After running the tests and gathering all the records we perform a final post-installation wireless site survey to verify that coverage and capacity requirements have been met. This also certifies our full coverage guarantee and provides users with the assurance that they are connected to the network wherever they are in the office.
You deserve a trusted partner
We don't just deploy wireless access points and go home. Our post-implementation support allows you to contact our helpdesk line in case of any issues or questions.
Business System Solutions has a long track record of delivering wireless site survey services to businesses large and small. With over 10 years of helping companies embrace this new age technology, we take pride in their success.
Call today to know more about our wireless site survey and heat mapping services.